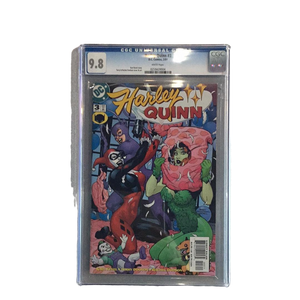 Harley Quinn #3 - DC 2001 - CGC 9.8
Harley Quinn #3 - DC 2001 - CGC 9.8
Are you a fan of Batman and the Joker's deranged sidekick, Harley Quinn? If so, we have something special for you! Introducing Harley Quinn #3 from DC's 2001 series – graded at a near-perfect 9.8 by CGC! It doesn't get much better than that for comic collectors.

Harley Quinn has been a major fan favorite since her first appearance in The Batman Adventures #12 back in 1993. A few years later, she was given her very own series, and it quickly made waves! Issue number 3 of this groundbreaking series is an absolute must-have. It has the power to transport you right back to those wonderful days when superhero comics were fresh and unique.

The physical issue itself is absolutely stunning! With colors as vivid as Harley's vivid personality, this comic looks like it was released yesterday. And with it being professionally graded by CGC at 9.8 – the highest and most prized grade – you can rest assured that your investment will maintain its value over time (and even increase).

So don't wait – grab your copy now and show off your love for one of the greatest characters of all time: Harley Quinn!
---
We Also Recommend