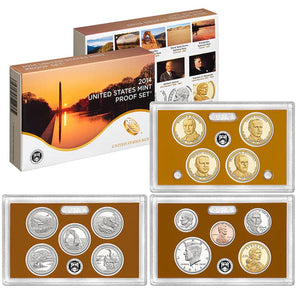 2014 US Mint Proof Set
Introducing the 2014 US Mint Proof Set! Since the early days of our nation's origin, coins have been a tremendous part of American culture and history, representing both the strength and progress of our nation. The US Mint has proudly produced coins that could withstand the test of time and honor the values of the American people.

The 2014 US Mint Proof Set is a special collectible edition which includes 14 coins. Each beautifully-crafted coin or set is hand-selected by US Mint experts for its superior quality and aesthetic design. An ideal addition to any coin collector's collection, this historic set is sure to find its way to great collectors and become a cornerstone of American culture for years to come.

Safely sealed and stored in beautiful packaging, the 2014 US Mint Proof Set is a treasured item that any coin collector is sure to appreciate. An opportunity to secure both precious metals and exciting artwork, add the 2014 US Mint Proof Set to your collection and experience the power and beauty of coin collecting.
(Quality of box may vary)